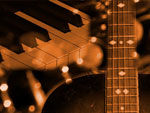 "Come before His presence with joyful singing...Enter His gates with thanksgiving and His courts with praise. Be thankful unto Him and bless His name." Psalm 100:2-4
These verses are the foundation of the worship ministry here at Goodview. Music is a key element of worship and is one way to direct our focus upon God for who He is and all that He has done for us.
We do this in a variety of ways: through corporate worship as we unite our voices in praise; through the orchestra using our talents as we play instruments; through singing psalms, hymns, and spiritual songs in adult or children's choirs.
We believe that everyone in the church should be involved in worship! So whether your interest lies in the choir, the orchestra, drama, the worship team, or just singing to Jesus with all your heart from the congregation, worship is for you!
Join us as we "continually offer up a sacrifice of praise to God." (Hebrews 13:15)
The adult choir is the cornerstone of the vocal ministry. It consists of ordinary people from all walks of life who are called by God to make His praise glorious. Whether you are talented or not, whether musically trained or not, regardless of your preference for a given style of Christian music, we all have one thing in common---a love for Jesus and a desire to worship and praise Him to the best of our abilities.
There are no auditions and the ability to read music is not required.
The orchestra is a group of people who use their musical talents to enhance our 11:00 AM worship service. We also participate in the Christmas Celebration in December. Practice takes place on Sunday evenings. If you play an instrument and would like to join the orchestra, we invite you to speak with Kelly Phillips concerning the opportunities that are available.